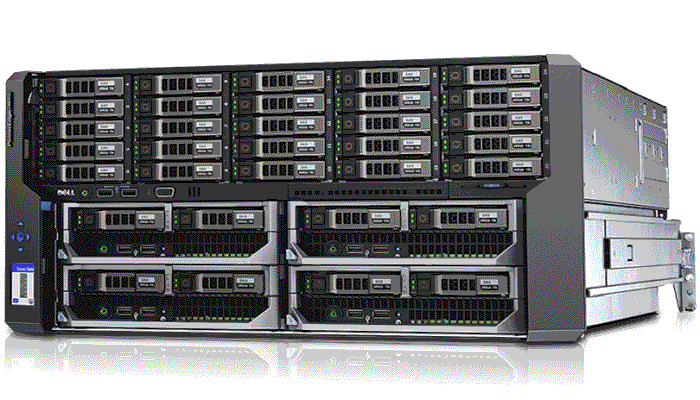 Sendo a primeira solução de TI integrada, concebida especificamente para ambientes de escritórios remotos e pequenos escritórios, o premiado PowerEdge VRTX integra servidores, armazenamento, sistemas de rede e gestão em conjunto num único chassis compacto com dimensões, acústica e segurança optimizadas para escritórios.
Todos os nós de servidor têm acesso ao armazenamento partilhado interno de baixa latência, que é essencial para o agrupamento em cluster e a virtualização, incluindo vMotion. Isto também ajuda a activar o processamento eficiente através de períodos de pico e pode melhorar a flexibilidade de utilização.
Implemente rapidamente o VRTX para consolidar e gerir aplicações empresariais em até quatro nós de servidor com armazenamento partilhado e sistemas de rede integradas.
Ideal para escritórios remotos de grandes empresas e organizações, bem como escritórios de pequenas e médias empresas.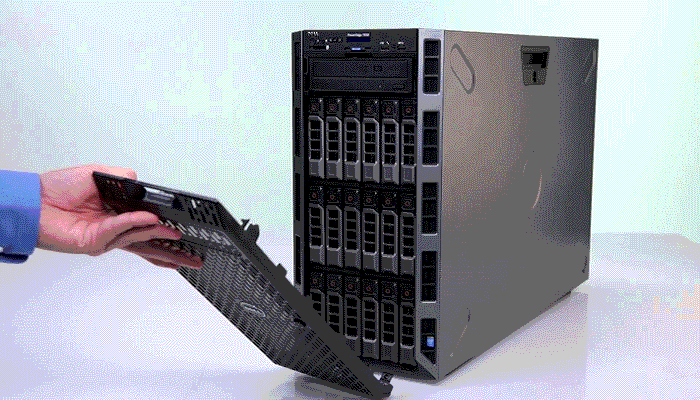 Acelere as cargas de trabalho mais exigentes com o potente e flexível servidor de torre de 2 sockets PowerEdge T630, membro da 13.ª geração de servidores PowerEdge.
Performance versátil e eficiente: Accione tempos de resposta rápida com o mais recente processador Intel® Xeon® da família de produtos E5-2600 v3, memória DDR4 e sete ranhuras de E/S.
Capacidade expandida, capacidade sem precedentes: Com suporte para até 50% mais de unidades de disco rígido do que as gerações anteriores, o PowerEdge T630 oferece novas funcionalidades às pequenas e médias empresas e escritórios remotos com correio e mensagens, imagiologia médica, virtualização de servidores e de desktops e composição gráfica preocupada com o orçamento.
Com suporte para até 32 unidades de disco rígido de 2,5" ou 18 unidades de disco rígido de 3,5", o T630 consegue armazenar mais caixas de correio de grandes dimensões e pode reduzir drasticamente o custo por caixa de correio.
As configurações de armazenamento flexíveis permitem-lhe satisfazer todas as necessidades da carga de trabalho, ao mesmo tempo que permitem um amplo espaço na unidade para expansão económica no servidor.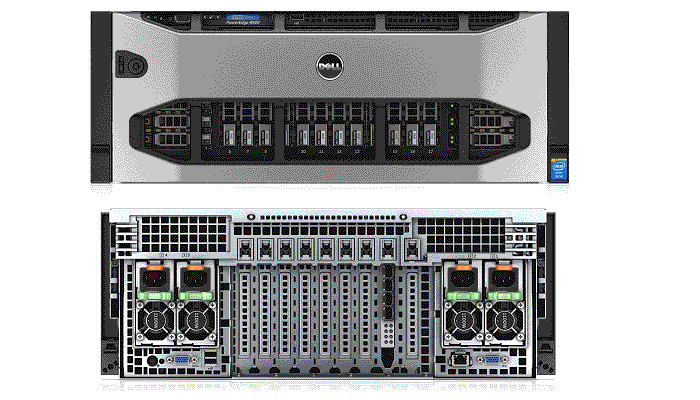 Execute mais transacções em menos tempo com a elevadíssima capacidade de memória e tremenda capacidade de colocação em cache do PowerEdge R920, o servidor de rack mais potente na gama PowerEdge. Este servidor introduz na linha PowerEdge a próxima geração da família de processadores Intel® Xeon® E7 v2, que alia até 15 núcleos por processador a uma grande capacidade de memória, threads de alta performance e funcionalidades de fiabilidade com base no hardware concebidas para:
•Processar e analisar grandes quantidades de dados em tempo real
•Fornecer informações empresariais ("business intelligence") em tempo real
•Impulsionar uma tomada de decisões mais rápida
•Aumentar a produtividade e a rentabilidade
Como um servidor potente para grandes empresas, o R920 suporta aplicações empresariais centralizadas, tais como gestão das relações com os clientes (CRM) e planeamento de recursos empresariais (ERP) com bases de dados essenciais, podendo até proporcionar a consolidação destas aplicações sensíveis em termos de performance utilizando a virtualização em grande escala.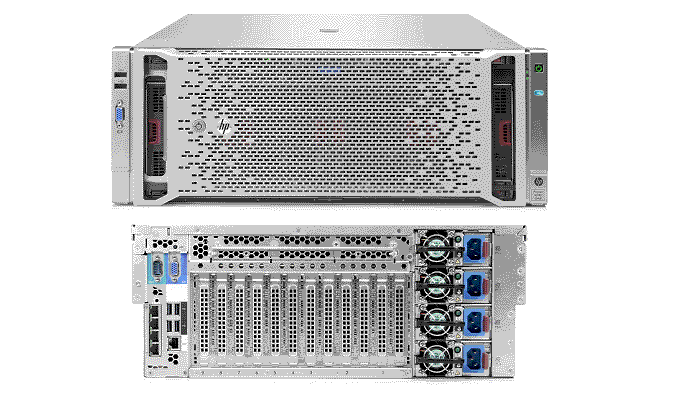 Does your business demand fast insights, support for increased number of users and uncompromised availability? The HP ProLiant DL580 Gen9 Server is the HP four socket (4S) enterprise standard x86 server offering commanding performance, rock-solid reliability and availability, and compelling consolidation and virtualization efficiencies. Supporting Intel® Xeon® E7-4800/8800 v3 processors, the DL580 Gen9 Server offers enhanced processor performance, up to 6 TBs of memory, greater IO bandwidth (9 PCIe Gen 3.0 slots), and 12 Gb/s of SAS speeds.
The DL580 Gen9 Server has security and data protection features for system resiliency that your business can depend on. All, making it ideal for mission-critical enterprise, business intelligence, and database applications.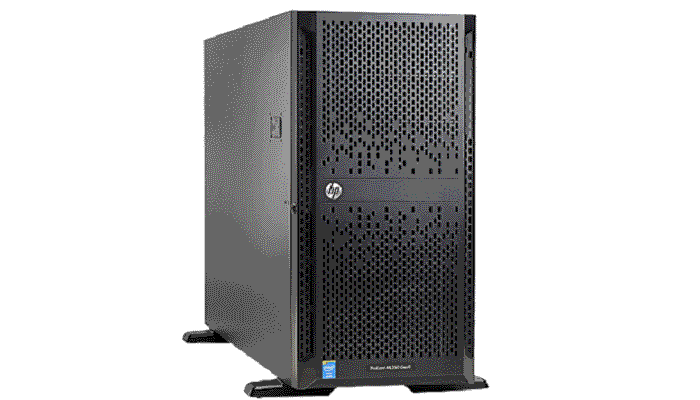 Do you need to increase your business productivity and improve operations while balancing your employees mobility, security and collaboration needs, all within your limited IT budget?
HP ProLiant ML350 Gen9 Server delivers a class-leading combination of performance, expandability, manageability, reliability and serviceability making it the choice for enterprise data centers, expanding SMBs and remote offices of larger businesses.
ML350 Gen9 Server leverages the Intel® Xeon® E5-2600 v3 processors with up to 70% performance gain, plus the latest HP DDR4 SmartMemory offering up to 14% 2 performance increase.
The ML350 Gen9 Server is ideal for enterprise IT infrastructure to mission critical applications.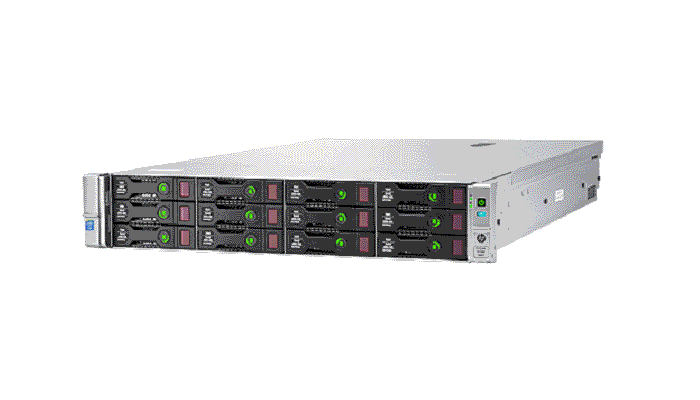 What is your server bottleneck...storage, processing, expansion? The world's best-selling server just got better.
The HP ProLiant DL380 Gen9 Server delivers the latest performance and expandability in the HP 2P rack portfolio.
Reliability, serviceability and near continuous availability, backed by a comprehensive warranty, making it ideal for any server environment.
Manage the DL380 Gen9 Server in any IT environments by automating the most essential server lifecycle management tasks: deploy, update, monitor, and maintain with ease.
Run everything from the most basic to mission critical applications, and can be deployed with confidence.
Deploy the data center standard.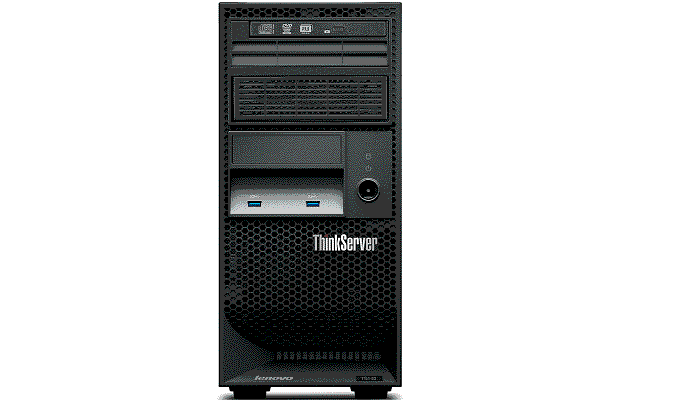 O ThinkServer® TS140 combinado a performance do processador Intel® Xeon® E3-1200 v3, à qualidade dos produtos Think e a facilidade de uso das ferramentas e softwares, entregam soluções de servidores altamente acessíveis, de nível empresarial para prestadores de serviços, escritórios, lojas e pequenos negócios.
Menor custo de operação graças à performance de economia de energia e à última geração de processadores Intel® Xeon® E3-1200 v3.
O TS140 fornece gerenciamento remoto facilitado, com ferramentas onboard que ligam e desligam seus servidores remotamente.
Acessível, ainda que desenvolvido para empresas, o TS140 cobre seus custos apresentando um servidor confiável, rico em recursos, com preço de desktop. Maximiza o tempo com recursos da classe de servidores reais, como memória ECC, hard drives de classe empresarial e RAID embutido.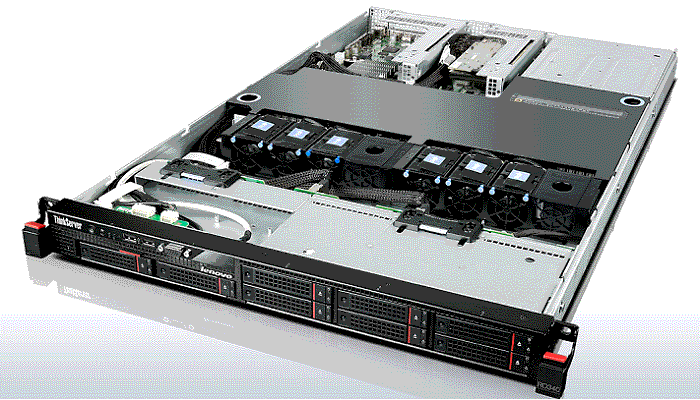 How is Lenovo ThinkServer RS140 versatile for business?
It's loaded with features, gives you the choice of a dual-chassis, and has a slim, 1U design.
The RS140 runs a range of operating systems, including client OS capability for retail applications.
It's among the quietest models in the industry, and it features easy-to-use, industry-standard management tools.
The RS140 also has networking scalability and a wider range of processor support from Intel® Core™ i3 to Intel® Xeon® Plus, the RS140 can support 4-post and 2-post racks, giving you more flexibility with your business footprint.
Lenovo aims to add value to your business by including features you need without a lot of the unnecessary extras.
Built with generous memory and storage capacity of up to 8TB, Lenovo ThinkServer RS140 is an affordable, entry-level rack server ideal for small- to medium-sized business, workgroups, distributed locations, and webscale workloads.
Plus the RS140 features integrated NICs, and an x8 PCIe slot for RAID protection, network expansion, or SSD cache acceleration to better protect your valuable data.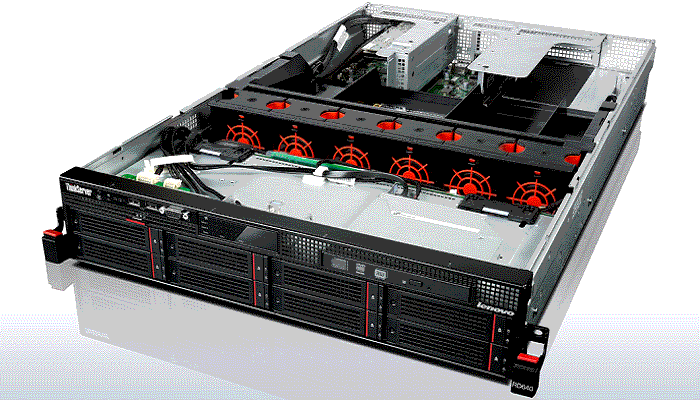 Tremendous internal storage capacity and more I/O connectivity than ever before is the result of an innovative design on the new ThinkServer RD650.
With up to 26 drive bays and 74TB of internal storage capacity, the RD650 is great for storage-hungry applications such as databases, data analytics clusters, and video streaming.
Two additional enterprise-class M.2 solid-state drives (SSDs) are available as an option for secure booting, as well as SD card options for hypervisor booting.
One way to reduce these cooling costs is by operating the data center at a higher temperature. With a dynamic environmental design, the RD650 can run continuously at 45 degrees Celsius—with no impact on reliability.
In fact, the system has been carefully architected and tested to support long-term reliability.
The RD650 is also perfect for organizations that install servers in less strictly controlled environments. Other high-reliability features include error correcting code (ECC) memory, hot-swap hard-disk drive and SSD capability, and hot-swap and redundant power and cooling.